Suunto Vertical Blue has not disappointed anyone on the sheer volume of new national records being set by the elite athletes in attendance. Chief among these has been a new record set by UK diver Mike Board. On day six of the annual competition hosted by William Trubridge the former Royal Marine Commando set a new personal best (PB) and his second national record at the competition by completing a constant weight dive (CWT) to an astounding 94 meters. "I've had my heart set on a constant weight record for a couple of years and Dean's Blue Hole is the perfect place to make my mark," Mike shared.
Last year in Kalamata Mike hit a PB of 90m in training, but did not repeat that target depth in competition. It was then that he decided that Vertical Blue would be the event where he would focus his energies and work towards his goal of a British national record. Living and working in Gili Trawangan (where he teaches freediving with his girlfriend who is also a yoga instructor) offers Mike good conditioning, but not necessarily the depth training one can access at places like Greece or  Dean's Blue Hole.The good natured Board is realistic about other contenders, "There are lots of great British divers coming up the ranks, so I guess I will have to try and push it further!" Mike also jokingly offered that he was simply "borrowing" the British record from Dave King. "Suunto Vertical Blue is really the best competition I have ever attended in terms of the atmosphere and support of so many fellow freeedivers – everybody wants you to succeed and dive as deep as you can." said Board, "It would be hard to not want to come back to Long Island in the Bahamas."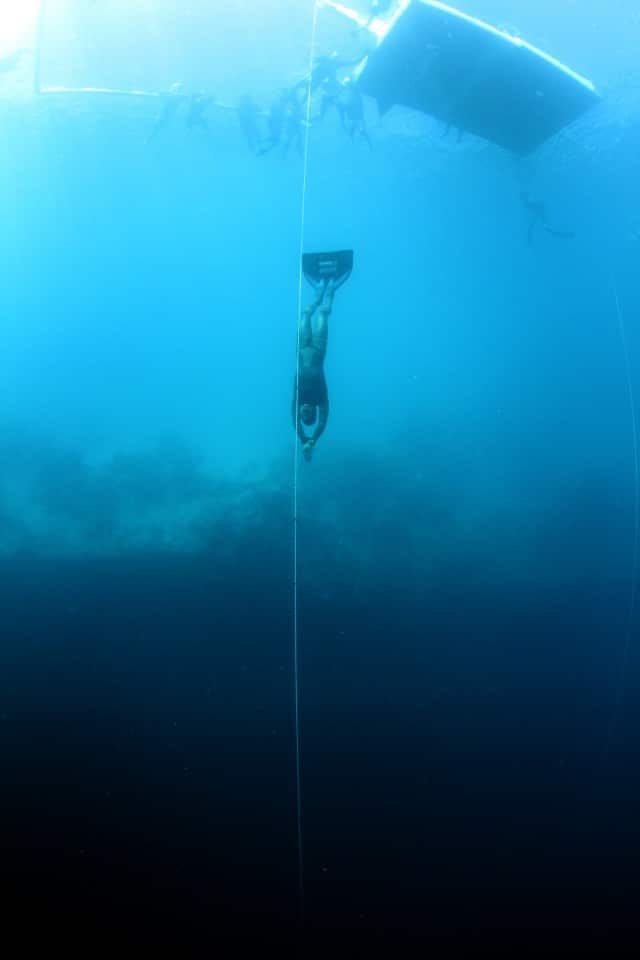 photo ©  Igor Liberti
Get More Articles Like This!
Subscribe to our weekly newsletter and get more interesting stuff like this direct to your email inbox every Friday.