The 2013 Suunto Individual AIDA Pool World Championships are well underway in Belgrade with some fairly predictable performances being observed. What's been totally unexpected is a radical shift in temperatures — which the Serbian capital experienced today; the city's climate lost more than twenty degrees within 24 hours. As the static apnea qualifying sessions went on, a cooling rain pervaded — refreshing the stifling conditions at the outdoor pool that many athletes complained about. A number of the competitors were not prepared for this unusual and drastic  temperature swing, (as the preceding days had been blisteringly hot.) The boss of the pool, Goran Colak, went about his business unfazed, and set the static apnea bar very high with an eight minute and :34 second STA. The Croatian athlete has been dominating the competition from the beginning. So it should come as no surprise that Goran is in the "A" final on all events. Goran isn't the only one crossing the threshold of an 8 minute performance in Belgrade, as Eugen Goettling, nicknamed the "Austrian Lumberjack", signaled a clean surface protocol at eight minutes and :11 seconds. Meanwhile Ulf Dextegen of Sweden also realized eight minutes and :04 seconds — thanks in large part to some rather muscular coaching. Alexey Molchanov, one of the most comprehensively skilled freedivers in the world, emerged after seven minutes and :43 seconds, and the last but not least contender in the "A" final group, Robert Cetler of Poland, held his breath for seven minutes and :16 seconds.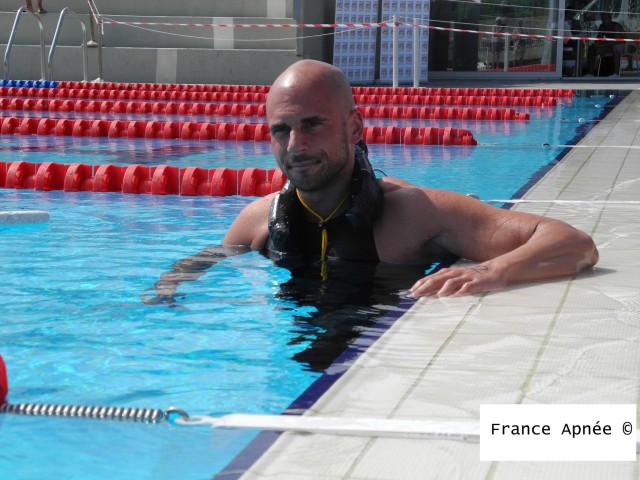 From the fearless French, Sète Olivier Azzopardi goes into the "B" final group with a solid six minutes and :42 seconds; he is accompanied by Nicolas Proquin who qualified "B" with six minutes and :36 seconds. The Avignonese ranks 13th in the static event, just in front of CNF World Record holder William Trubridge who shared the following:
"Static qualifications today, and an overnight temperature drop of over 20ºC (from 39º yesterday to 16º today) caught me with my pants down, shivering in a 2mm wetsuit. Expert coaching from Chris Marshall got me through to 6:34, which was surprisingly enough to qualify for the B finals, so I'll have to do it all over again on Saturday."

Among the women, there is one freediver who successfully crossed the seven minute barrier — Austrian Veronika Dittes — victorious with seven minutes and :01 second. She is followed by Natalia Molchanova with a static of six minutes and :28 seconds. Like Goran, the Molchanov family will be in all "A" finals.
From the Japanese team Sawako Maruyama offered an impressive six minutes and :27 seconds followed by Gabriela Grezlova of the Czech Republic at six minutes and :22 seconds. Narrowly missing out on the "A" final but the front-runner in the ladies "B" final is Tomoka Fukuda who demonstrated her apnea prowess with a breath-hold of five minutes and :54 seconds. The petite & pretty Fukuda is a power-packed participant and  one to watch as she has adeptly illustrated this summer by winning the Med Cup in Greece, and last year at Vertical Blue, where Trubridge cited Tomoka as being the most exciting athlete.
On hand at the pool today was the static champion Branko Petrovic, who is not participating, but came to watch and to coach a young German named Jennifer Wendland. Tomorrow is a rest day for all of the athletes but do stay tuned for the highly anticipated finals and results. See the top competitors in the Dynamic (DYN) final heats below and click here to check out up to the minute coverage on the Italian apnea forum. To view all the other qualifiers and full listings of each discipline check out the results so far for Dynamic No-Fins and Static Apnea. DeeperBlue tweeps can also follow the action at the hashtag #BelgradeWC2013 on twitter.
MEN's DYN FINAL A
Colak Goran m CRO,250m, OK
Bubenchikov Alexander m UKR, 244m,OK
Kostyshen Aleksandr m RUS, 244m, OK
Molchanov Alexey m RUS, 235m, OK
Malina Mateusz m POL,234m, OK
Pöntinen Mikko m FIN, 233, OK NR
Goettling Eugen m AUT, 228m, OK, NR
Papadopoulos Christos m GRE, 227m, OK, NR
MEN's DYN FINAL B
Bussiere Guillaume m FRA, 227m, OK
Walczyk Roman m POL, 210m, OK
Sade Tanc m AUS, 209m, OK
Ropret Andrej m SLO, 208m, OK, NR
Keskitalo Jaakko m FIN, 205m, OK
Risian Michal m CZ, 205m, OK
Shmatko Yury m RUS, 203m, OK
Klier Elmar m AUT, 200m, OK
WOMENS's DYN Final A
Turcinovic Katarina f CRO, 200m, OK
Molchanova Natalia f RUS, 198m, OK
Bonin Ilaria f IT, 193m, OK
Nordblad Johanna f FIN, 192m, OK
Biala Emilia f POL, 187m, OK
Bourke Amber f AUS, 182m, OK, NR
Trutic Ljubica f SRB, 182m, OK NR
Lijic Vulic Lidija f CRO, 181m, OK
WOMENS's DYN Final B
Artnik Alenka f SLO, 179m, OK
Tapani Sofia f SWE, 179m, OK
Dolivet Anne-Claire f FRA, 175m, OK
Peralta Ambar f VEN, 169m, OK, NR
Kalska Agnieszka f POL, 169m, OK
Zharkova Nataliia f UKR , 162m, OK
Yoneyama Miyako f JPN, 163m, OK
photo  © France Apnee
Get More Articles Like This!
Subscribe to our weekly newsletter and get more interesting stuff like this direct to your email inbox every Friday.